2022 CLE from Vetting the House
2022 FEB | Florida Bar Family Law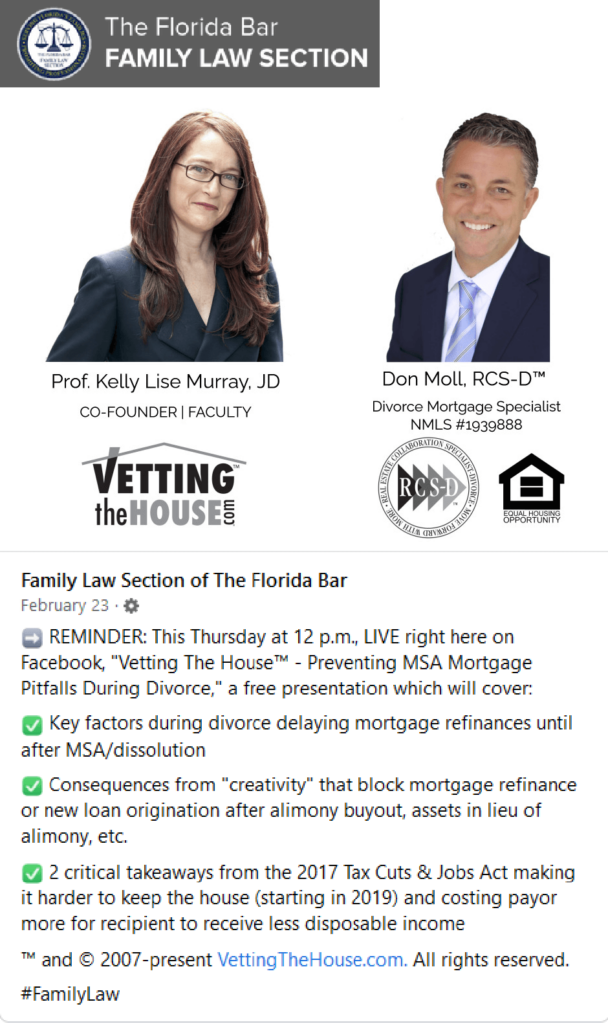 2022 April | Assoc. of Attorney-Mediators CLE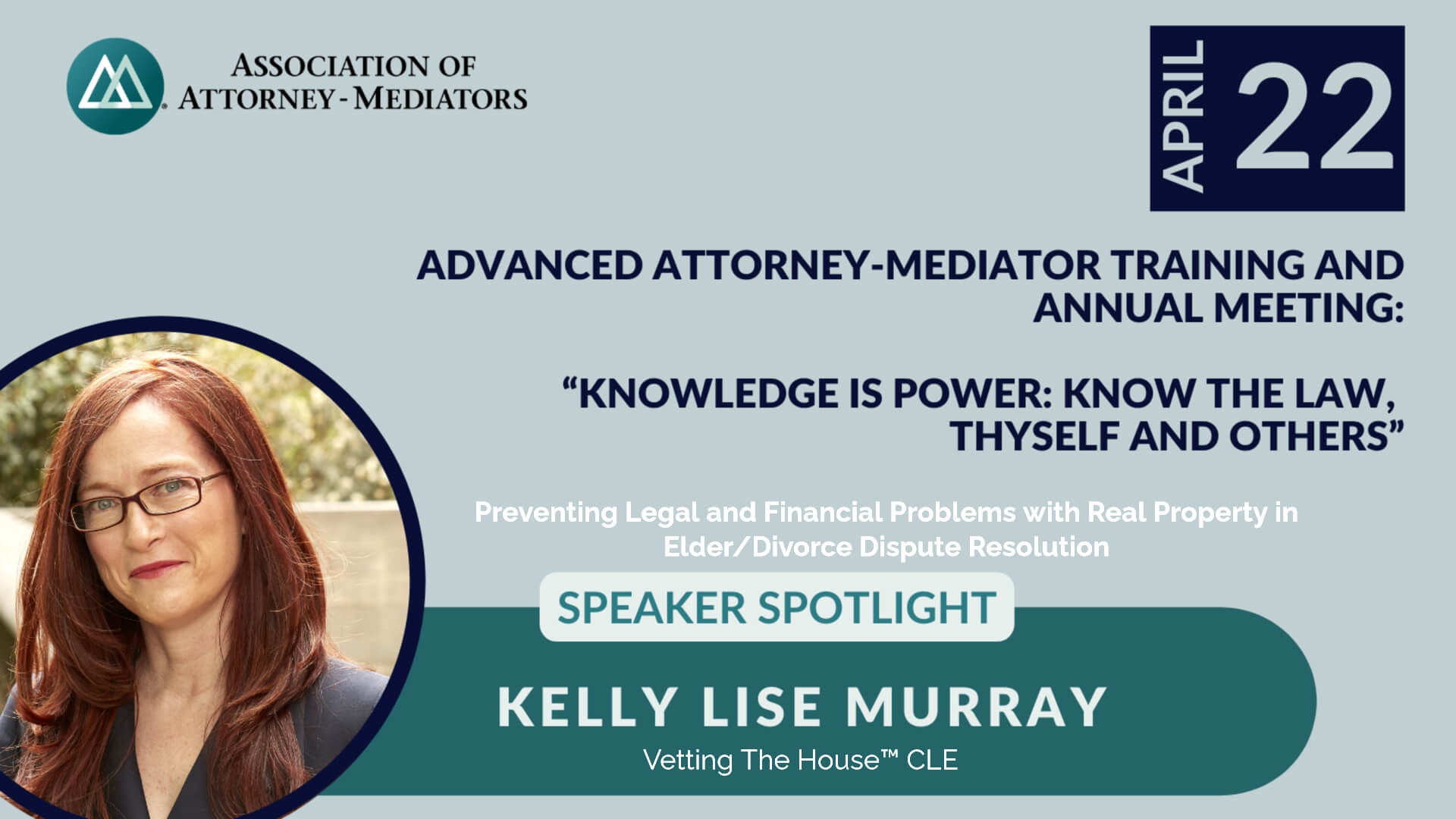 2022 March | CP Washington CLE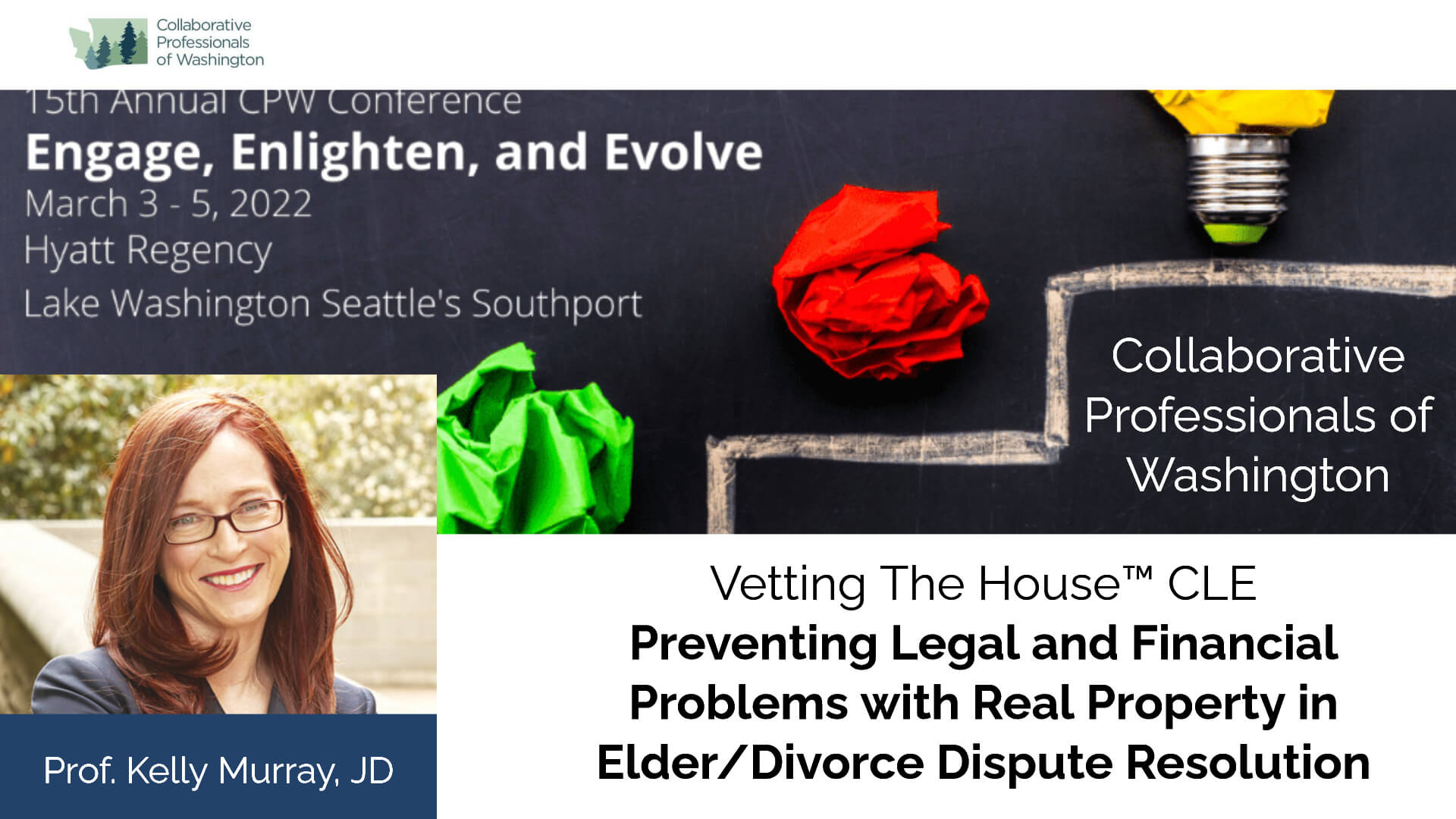 Build Your Niche Mediation Business the Smarter Way - in Weeks, Not Years!
Sustainable Success: Grow Your Practice and Boost Referrals with Niche Knowledge and Networking
Mastering Real Property Asset Dispute Resolution is a mediation niche for Divorce | Trusts | Elder | Probate that also helps build your business in weeks, not the 3-5 years for mediation (family or civil) generally, supporting sustainable success.
Click here for early registration LISTSERV. Registration goes live December 2021.
Why you should attend CLE/CME "DeRisking The Mortgage" Virtual Conference 2022 March 10-12:
Learn the Smarter Way to Mediate Mortgage Issues in Divorce
Both the pandemic and current housing shortage make keeping the house more likely and even more dangerous during mediation | collaborative practice | litigation. And mortgage issues matter even more in dispute resolution for real property assets.
Smarter is better for sustained success!
QTR 2: MON/TUES/WED June 20-22, 2022 | DeRiskingTheMortgage.com
Eligibility - Licensed & Actively Practicing:
Lawyers
Lawyer/Mediators
Mediators (Family / Civil)
Paralegals
*If you are licensed as a Mortgage Loan Officer or Real Estate Agent, click here
Continuing Legal Education (CLE) and Continuing Mediation Education (CME) Hours are pending for Arkansas, California, Colorado, Florida, Georgia, Illinois, Indiana, Ohio, Tennessee, Texas, Virginia, Oregon, Washington, and Wisconsin.
Resolve gaps in mediated property settlement agreements (PSA, MSA, SA)
Reduce errors in evidence, information as well as advice (by legal/financial advocates)
Raise the right issues mediating secured debt obligations and options
Remove barriers to home ownership eligibility (whether the house is kept or sold)
Reinforce property settlement clause enforceability (reducing post-divorce litigation)
Vetting the House™ CLE/CME helps lawyers, mediators, and paralegals preserve clients' home ownership eligibility and resolve real property-related issues the smarter way - Work Smarter, Not Harder!
Join Our LISTSERV
Enter your email address to register for our LISTSERV.